Yet another Star Wars Fan Film! E-11 is a genre-mix of Star Wars and current trends of typical YouTube Review & Unboxing videos. However it still tells an underlying story. Combining many in-camera sets & effects, with high-quality visual effects it is created to be as accurate as possible to the real Star Wars shows. Mixed with witty humor, inside jokes and easter-eggs this fan film hopefully entertains fans around the world. Deep down it is a love letter to all the real creators of our favourite galaxy far, far away. 
The idea for "E-11: Standard Issues" was born when I was building the E-11 blaster for my Stormtrooper armor in 2017. I thought: what if a Stormtrooper would be a creator in his own universe and would review imperial gadgets!? My huge love for Star Wars and the inspiration it gave me as a child (as well as an adult) was a driving factor to create something that lives in this world too. The review part is inspired by my own reviews for tech and creative products but also by watching high-quality reviews by fellow creators like iJustine, MKBHD, Peter McKinnon and iPhonedo. Of course it is also meant to be a parody of current trends in tech and culture as well as content: everything needs to be unboxed and reviewed - EVERYTHING! Even an E-11 blaster, at least I think so. But also spoofing some of our day-to-day technology culprits!
The script took a while until it was finished and the jokes were somewhat solid. I have to mention my friend Michael Münch as he had to listen countless times to my ideas! He was super helpful by assisting with the script and also contributing a few gags (and editing the film later on in post). 
Overall preproduction and prop & set building was from 2018 until late 2019. Filming wrapped in December 2019 before the end of the year (and before the pandemic hit). Together with good friends and colleagues like Daniel Hennis, Max Iglesias, Can Amirak, Maxl Gründl and Stefanie Winkler as the Scout Trooper, we had a blast during the shoot (pun intended). Then post-production with edit and vfx took until April 2022 with the YouTube premiere on May the fourth! So overall it was quite a long time with five years (on and off of course), often not being able to work on it for many months was quite tough. In-between commercial projects and raising kids, this was a challenge and not always easy. However in the end it resulted in one of the biggest fun and joy projects of my life so far. For many years it was my "Happy Place" in the midst of chaos. It also rewarded me incredibly by expanding my skills, adding to my toolset and crafting my "eyes" to become a better artist. And of course the ability to recognise that there is only so much one can do by himself and to call in the right people with the right skills. Admitting that there is something you need help with, is not weakness but strength (and smart). In this example I have to call out Petr E.C. Rice who composed and created an unbelievably beautiful soundtrack for E-11.
Ultimately this is an homage to Star Wars and feeding my desire to create something around it. But also this fan film project is so much more - it is there for people to enjoy, make them laugh, maybe also think a little about current (tech) trends. On a deeper level one of my main motivations to create this short film - and also to document the full creation process - is to inspire fellow creatives and especially the next generation of artists. You can do and achieve anything if you put in enough heart, sweat and dedication.
After all, our kids witnessed the latter part of post-production and saw how - on a small scale of course - movie magic is created. Now, they caught the spark to create and want to draw even more than before. Build Lego spaceships and create stop motion movies! They are already way ahead of where I was at their age. The future is bright and I could not be happier that their creative spirit is fueled even more through seeing me work on this. To them I have worked on Star Wars - although not the real thing unfortunately (hello to my friends at ILM!), but still it feels: Mission accomplished.
As much as possible was built as a real set, especially everything that is in front of the trooper, complete with blinking LED lights. We used two Elgato Greenscreens as a backdrop, one mounted on the wall, the other portable for more flexible positioning.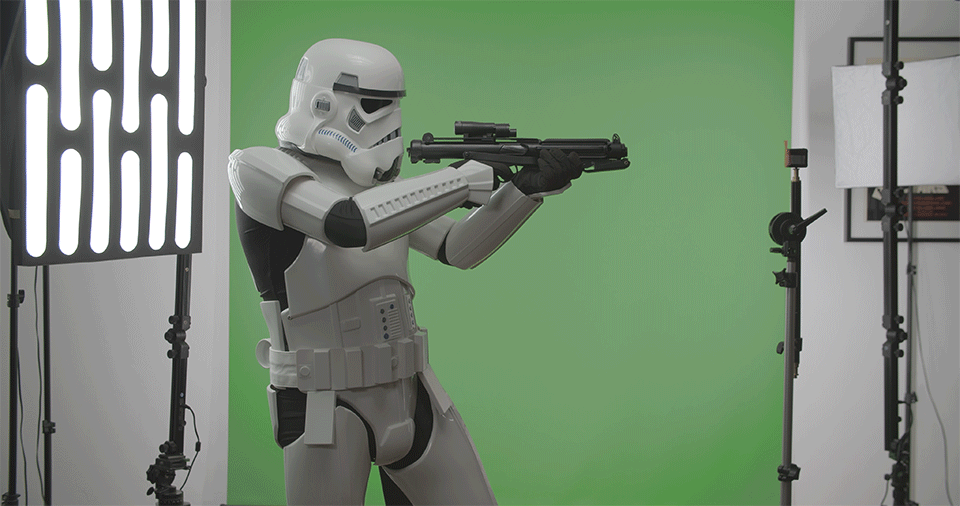 We also a lot of effort into lighting: The main lights were equipped with hand-cut mattes that resemble the typical pill-shaped lights that beautifully work with the reflections on the suit. Also we used flash lights during the shooting sequence to give real red light reflections on the trooper and the blaster.
Every shot with the trooper had to be carefully keyed. Keying was done using Maxon VFX Suite Primatte Keyer in Adobe After Effects, which was used to composite every shot of the film. The final look was created with a mix of several effects: Lumetri for the colorgrading, BorisFX Sapphire Glow and Chromatic Aberrations. VFX Suite Supercomp was also very helpful for compositing all the different elements seamlessly. And of course quite a lot of real film grain by using rgrain elements.
Originally it was meant to be created only in HD, although it was filmed natively in 4K. All the backgrounds were meant to be quite simple matte paintings until the pandemic hit! Then it snowballed into this monster, as I decided to do it all in 4K, model every single nut and bolt and texture the hell out of it - and really try to make it look as close to Star Wars as possible! 
It helped me as a coping mechanism during the tougher times of the pandemic, when anxiety was mixed with lockdowns and quarantines. I spent countless sleepless nights, observing and studying all the films/shows frame-by-frame to learn my eye the particular look of Star Wars.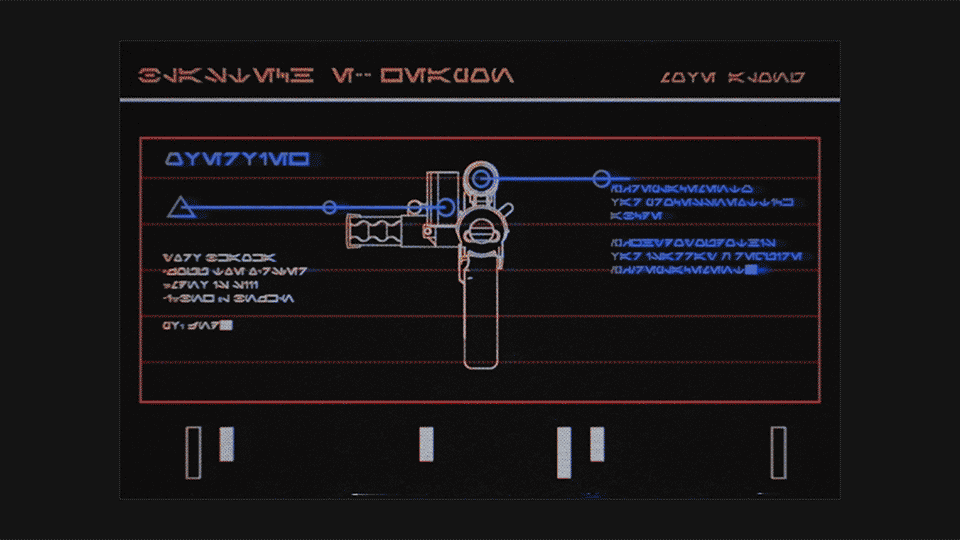 Early on the desk concept included FUI graphics that should be visible in-camera during close-ups of the blaster or the desk. All the UI elements were animated in Adobe After Effects, then copied on to iPads which then were placed under the real desk prop cutouts.
Real life kitbashing - basically building almost everything myself from random Sci-Fi looking household stuff. From left to right: Cutting the softbox matte, working on the LED electronics which my Dad helped to build, rice-bowl-lid as a base for the data port and toothpaste lids for various tech details (spray painted silver or black and weathered).
Target on the left illustrated by Mace Steuer in Adobe Illustrator. Target on the right illustrated by Robert Hranitzky with Adobe Fresco.

A couple of the 3D models used in E-11. Lambda Shuttle base model by Mickaël Boitte, TIE Fighter by videocopilot. Mouse Droid was modeled in Cinema 4D by myself. Most of the textures were either re-worked or created completely from scratch in Adobe Substance Painter.
Each imperial corridor element was carefully modelled in Cinema 4D by using "Episode IV" as reference, mixed in with some inspiration from "Rogue One", especially for the blast door and door panels. Everything was then textured in Adobe Substance Painter.
This is how it looks like without any textures. After set-dressing with props to make it look more believable.
A couple of random corridor test renderings, including also my first-ever Redshift renders. GPU FTW! :) 
Get a full overview on many of the visual effects of E-11 but also enjoy a supercut of the wonderful score created by Petr E. C. Rice!
A couple of photos from our first day of shoot in December 2019. We had so much fun during the project, although the studio looked like a mess for a few days! Photos by Can Amirak.